Who are we ?
The Kids : Nicolas 11 yo and the twins Cylia &Mathieu 10 yo
The parents : Nathalie 37 yo & Jean-Luc 39 yo
We are together on the same photo (not easy to find one) during a trekking in MURAT
From Left to Right : Mathieu(fr), Cylia(fr), Nicolas(fr), Jean-Luc & Nathalie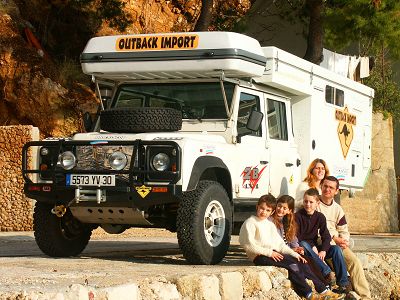 The idea comes from the couple. You know, at first, we only think about changing lives and it gets more and more precise day by day. One evening, really by chance, a talk with Nathalie about our dreams and the possibilities that life offers. Suddenly, as a hidden evidence, the words "going away for a year" sounded more real than ever. I don't know what made us take the decision this time but we never went backwards. Obviously it was on a boat that we would go away...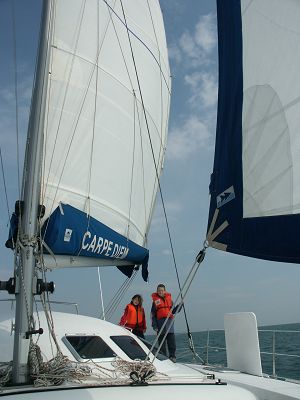 This seemed the only evidence at that time but finally prooved itself false.
Some days later, I talked to the kids about the project without any pressure. I was a bit afraid of their reactions. In 2001 they managed to make our plan to move closer to our jobs in Ales fail. They didn't want to leave their friends, their school, the clubs, the house : they wanted to stay in CAVEIRAC.
Going away for one year, it was completly different, a real adventure. The boys were immediatly seduced by the project and Cylia soon joined even if she is the one that misses a previous life most.
As I am typing on the computer, Cylia looks over my shoulder and tells me I am wrong : "I do love nature!" she says, meanning I am writing nonsense and that she is as wanting as the boys to go.
All three are full in the project. Nicolas, with his usual seriousness, helps me to prepare the DEFENDER. Mathieu joins him very often. Cylia stays out of the technical stuff. It is normal that they want to be with their friends as long as possible until we leave.
Nathalie and I would like them to take a big part in the updating of the web site. Their point of view seems very interresting to us.
Since that decision to go, the project changed in form but motivation never ceased. Technical preparation is the last link to our normal life. Problems are many. In september 2004, the Globe Trotter Show in ISSY les MOULINEAUX (near PARIS) was an important event. The ABM association joined travellers of all kind that showed films and photos and discussed with those who want to leave even if it is only for short Holidays.
Flash-back : we have always enjoyed trips and mobile holidays and kids have picked up that too.
with camper!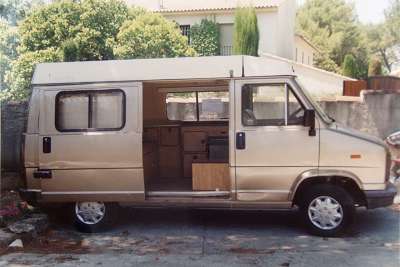 fly over with the mouse to see the children inside!
on bicycle, even if it wasn't obvious to find a solution for 5!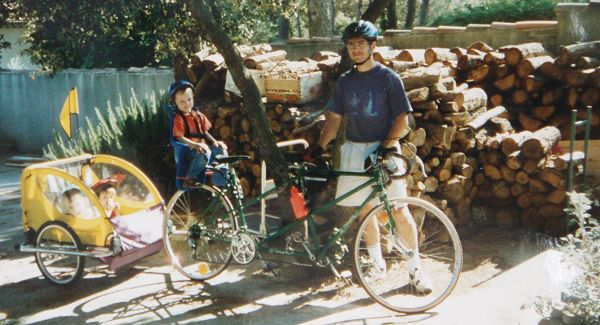 in a canoe (for more details see allonzalaventure part Canoë rivers "la Vézères", "l'Eyre", "l'Allier", "la Semois", "le Lot et le Célé" and "l'Ognion")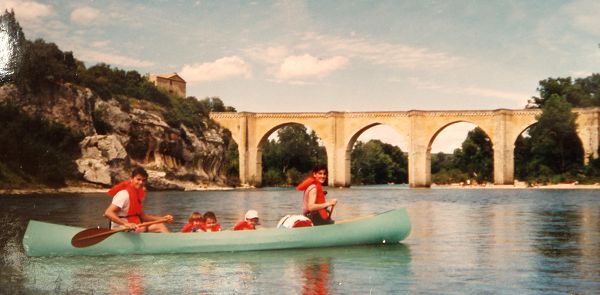 We have followed rivers for one or 2 weeks, camping all the way.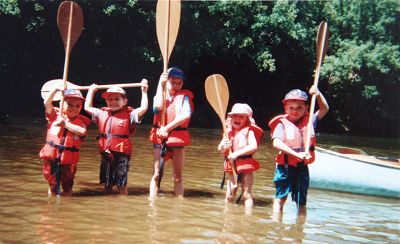 on foot : here at "Murat" camping in the mountains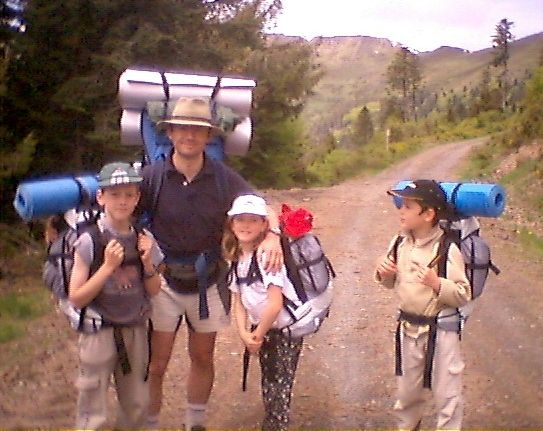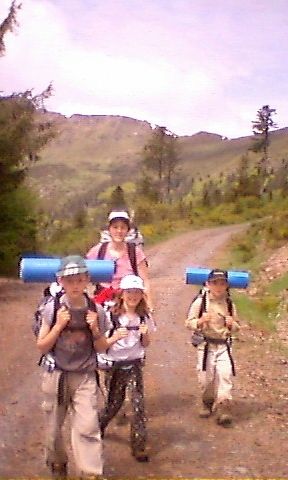 | | |
| --- | --- |
| Very early the children developed a taste for sport and adventure. | |
They have not waited this around the word tour to see foreign countries!